Returns & Refunds
Returns & Refunds
Subject to meeting the conditions set out in this Returns and Exchanges section, we offer a "no questions asked" returns policy which allows you to return delivered items to us for any reason up to 45 days from delivery of your Order.
We will issue a refund of the full face value of undamaged items duly returned (excluding, where applicable, the original delivery charges, cash handling fees, taxes and any duties) to your original tender type if you paid by payment card or PayPal. Please note that for systems reasons, in order to receive an online credit, guest check out customers will need to create a Website Account and register their details with us.
If an item in your Order is received damaged by you or is not what you ordered, then please arrange for return of the item to us using the Returns Process. The item must be returned in the same condition you received it in within 45 days of receipt for a full refund including, where applicable, original Order delivery charges, cash handling fees, taxes, and any duties. Replacement or repair may be available. Defective items may also benefit from a manufacturer's defects warranty. Please see below for further details.
Items can be returned using one of the following methods:
returning the item to the following Mamas and Papas store located in Kuwait: 360 and The Avenues (this service is currently unavailable); or


contacting us by calling +965 222 521 82 to arrange collection of the item from your delivery address in Kuwait. A collection fee equivalent to the original delivery charge will apply unless the returned item was defective or incorrectly fulfilled.
If you are returning the item directly to a Mamas and Papas store in Kuwait, you will also have the option to replace it subject to stock availability and price adjustment (where applicable). This is applied on full price items only, and not on sale items.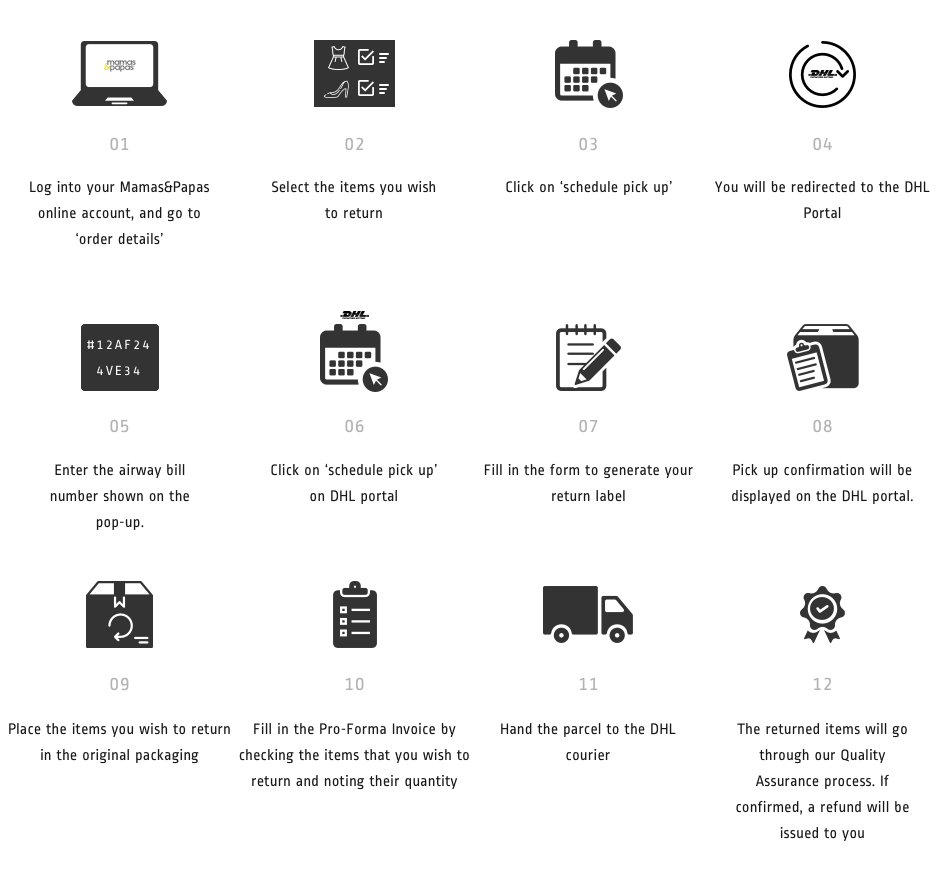 In order to qualify for a refund or in-store exchange, all items (including promotional gift items accompanying the Order) must be returned to us within 45 days of Order receipt:
unaltered, unused and in full saleable condition (or the condition in which they were received from us or our agents). Shoes must not have any sole or other damage;


in their original packaging/box/dust-cover and with all brand and product labels/tags/instructions still attached. Authenticity cards, where provided, should also be returned. Swimwear and underwear must have the original hygiene liner attached; and


accompanied by the original Order confirmation.


Please take care to preserve the condition of any product packaging as, for example, damaged shoe boxes may prevent re-sale and may mean that we cannot give you a full refund. Our agents may ask to inspect returned items at the point of collection but that initial inspection does not constitute a guarantee of your eligibility for a full refund.


We regret but we cannot offer returns on the following categories of products: toiletries, sale products, products sold in Mamas and Papas Outlet Stores, products sold in Mamas and Papas stores outside Kuwait, products not purchased via the Website, products sold on other Al Tayer Group websites including www.mamasandpapas.com.sa, www.mamasandpapas.ae, www.mamasandpapas.com.om and www.mamasandpapas.com.bh. Sale products may be exchanged. Gift items can only be exchanged by the recipient, or returned with a refund given to the purchaser of the gift. The above is without prejudice to any rights you may have to return defective products.


Any Amber points accrued on a returned purchase will be debited from your Amber account. Points will accrue on replacement items where applicable. Returned purchases which were paid for using Amber points will receive an online credit for the Website equal to the Amber points redemption value instead of Amber points being recredited. Please note that for systems reasons, in order to receive an online credit, guest check out customers will need to create a Website Account and register their details with us.


We reserve the right to monitor returns and to refuse Orders from customers with excessive returns levels. However nothing in this Returns section is intended to affect any consumer rights that you may have under Kuwaiti law.